Emmanuel Children's Home
  Emmanuel Children's Home was established on 5th of July, 2000 in a town called Aazhakam near Angamaly to protect the needy, destitute, helpless orphans, and street children. Emmanuel Children's Home is a Non profitable, Charitable Institution registered under the Travancore Kochi Literary Scientific and Charitable Societies Registration Act 12 of 1955 (ER.588/2000). This institution was started with 12 children and has reached 85 residents at the moment. Of this 86% of children are in the age group of 1 to 21. Among them, 75% of children are either single parented or orphans. Even though some of them have both parents, they are not in a situation to look after them or aren't able to send them to school due to their financial problems or health problems. Also, our institution is also a shelter for widows, elderly women, and handicapped people.
        Children's home was first functioned under the Chairmanship of Dr. M.A. Thomas and now is under the leadership of Director Rev. Varghese Thudian. This institution is currently functioning with the help of the donations provided by the supporting local people. Every resident in this institution are living in God's love and care. By God's grace we were able to buy the land and build hostel facilities for children's through the donations contributed by Emmanuel Ministry and few local people. Now the daily needs are met with the help of local people and the well-wishers around the world.  Currently only 45 children are fully sponsored and remaining children are praying and waiting for their sponsors. Our infrastructure facilities are so scarce that we cannot admit more children nowadays, so we need your support and cooperation to build new hostel facilities. The Boys home which we started few years back is not completed yet fully because of the financial problems. We are doing our best to help more destitute and abandoned children, but our resources are limited and we need your support and help to protect them.
Gallery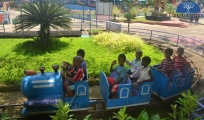 Summer Trip 2015
Christmas & New-year celebration 2015
     Most of the children are from the streets from Kerala and Tamil Nadu. They are brought up here with the help of the Police and child welfare committees. We are trying our maximum to provide our children with good education, nutritious food, proper clothing, safe shelter, and medical aid. Our main aim is to help our children to become independent and earn their living when they grow up and become fruitful people for God and people.